Our stylists are amazing at giving boy's haircuts and young men a great haircut too. You'll find we take direction exceedingly well. We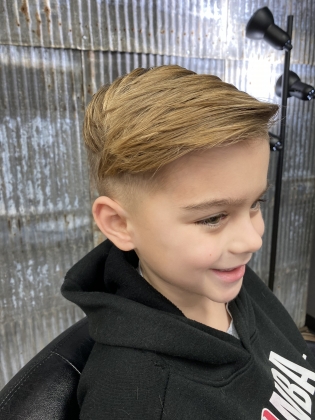 listen to the moms bringing in their little ones for a first haircut. We pay attention to the dads who bring in younger boys for a great look and experience. Come to our shop, and we promise you'll leave with the haircut you wanted and happy about the shampoo and towel experience. We are here to ensure everyone feels great with the haircut he gets.
And if your little one is a little nervous about getting his hair cut, we will take our time, and he will feel comfortable and get a great cut.
Stylish Boys Haircuts
We specialize in haircuts for boys and haircuts for men. Make an appointment online with the stylist of your choice. She'll get to know you and what you like and be here when you return for your next haircut.
My son hates getting his hair cut but the girls there always help him get comfortable and they always give him a great cut. If your son likes longer hair but you need it trimmed so they don't look homeless, these girls know how to do it.

-Erin W.
Kelsey cut my son's hair (1.5 years old) she was so kind, patient, and fun! She did an amazing job!

-Lindsey N